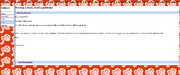 Email sent from David Wong to a bunch of publishers.
From: DavidW289

To: Time Warner Books

CC: BBC Books, Cambridge University press, HarperCollins, MacMillan, McGraw Hill, Penguin Books

 

Hello. I am writing a non-fiction book and I need a publisher. The events in the book are true, even though they are hard to believe. Once you look the pages over, you can get back to me at this email to negotiate a deal.

Enjoy.