The John dies at the end website updated, explaining that the This book is full of spiders ARG has started. A single image was posted there.
This image was hosted on THIS website.
We looked through the site and found a username and a password . The to images were named:
DavidW289 (Username)
and
sickbonerdude (Password).
With the information, we were able to log into David Wongs email account on the website.
He recieved some emails. The most important ones were:
A mail he wanted to write to some publishers (Contained the first 2 pages of his new book)
A mail send by John Cheese.
A mail from the Hamburger of the Month Club (HotMC)
A mail written in chinese.
We noticed 2 strings of numbers in the Chinese mail:
162.8.2 - 286.18.3 - 179.15.4 - 123.2.3 - 299.9.11 - 37.27.6 and 235.3.3 - 287.30.5 - 169.6.12
The numbers were a code for the version of the John dies at the end book with the ISBN 65914 .
We found out that 162 is a page number. 8 stands for the 8th line on that page and 2 is the 2nd word in the 8th
line.
By using this , we translated the 2 codes to:
"Eventually everybody is a fuck up" and "You broke everything"
Later that day a new email from HotMC was posted in Daves inbox:
"Send your best hamburger pics to hamburgerofthemonthclub@gmail.com for a chance to be featured in next months email!"
We subscribed to the HotMC and got the response:
"Hey there hamburger lover, thanks for your interest! We'll be sure to send you the best in hamburger photos as soon as we get them! Love, always Hamburger of the Month Club"
Players who send a picture of a hamburger got more personalized responses. A list of them can be found here.
May 22 to May 29:
Edit
The players took pictures of themselves eating a hamburger and emailed them to the HotMC.
Players who subscribed to the HotMC found a new email in their inboxes as well as the same email in Daves inbox at Wally's.
The email contained pictures of hamburgers. All the pictures were send to HotMC by the players in the last week.
We noticed strings of numbers on some of those pictrues. The pictures can be found in the sideshow with the numbers written on them in the description.
Using the same technique as last time, we were able to translate the codes into:
"A dagger made of dried turds"
"I made that flaccid penis part up"
Adding each code to the Wally's URL e.g. "/adaggermadeofdriedturds" we found 3 parts of an insurance form.
When we combined the 3 parts using Photoshop, we noticed the phone number (931) 516-9666 hidden after "Lost your PIN:"
When we called that number a recorded message gave us the PIN number : 3791548577632482950428477526325485
Using the account number on the top of the insurance form (88254751) to create a new Wally's URL, we could download a *.rar file from Wally's.
Using the PIN number as the password, we gained access to the 2nd set of pages from the book.
We recieved a new email from the HotMC. This time they send their favourite pictures from the players and a song. This song can be found here.
David send a mail to the Department of Debt Collection:
To: SMDMC Department of Debt Collection
I'm not John. We're not the same person. Stop sending these to me. I'm giving you an honest heads up, you're never going to see a cent of that. It's cheaper to just write it off."
As an attachment he included the insurance form. When we saved this form as *.mp3 it played a part of a radio show.
When we tried to save the insurance form as *.rar, it we were asked to enter a password. The password is AM1050, as this is the name of the radio station in the mp3.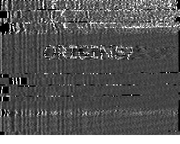 Inside the *.rar was a r.txt. We changed it to r.mp3 and ran it through an imager and got this image.
We added ORIGINS? to the Wally's URL and found another log in screen.
This time with a "Forgot your password?" option.
We requested the password for Daves username.
A message said that the password would be send to Daves inbox in the next 48 - 72 hours.
Dave recieved an email with the password for the intranet log-in.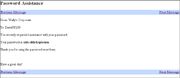 We were able to log in the intranet.
Inventory: A list of movies currently in Wally's inventory.

Customer Account records: A list of people renting movies. The movies people are renting change everytime the page is realoaded. Some names and movies stay the same.
Files: Can't be accessed.
Employee Handbook: A handbook.
Employee Evaluation Records: Can't be accessed.
Applicants: Leads to 2 images titled
Scan0001.jpg
and
Scan 0002.jpg
and a page were the players can enter their information and answer some quesions to get a job at Wally's.
Request a help ticket: A page with dealwithit.gif stating that the help ticket system is offline.
When we saved dealwithit.gif as dealwithit.mp3 it plays a number of tones. When the tones are analyzed it gives out "THENAMES".
When Scan0001.jpg is saved as Scan0001.rar it gives a password prompt.
When Scan0002.jpg is saved as Scan0002.mp3 it plays DTMF, or telephone touch tones.
The DTMF decoded to 106 104 101 110 97 109 101 115. Looking up the ASCII for those numbers, you get "thenames".
The only names that are not changing on the "Customer Account records" page are:
Louisa Ahlstrom
Mallory Anna
Saundra Arrieta
Tyrone Benedetti
Franky Burgess
Jessie Cremer
Guy Finchum
Nita Giuliano
Ted Konecny
Cherly Mackey
Lonnie Mineo
Clinton Siems
Fernando Straube
Cody Touchet
When we used the first name on the list as a password for Scan0001.rar, it gave us a 2nd password proteced 14.rar. The names in order open the 14 *.rars.
The 1.rar gave us the 3rd set of pages.
June 8 to 12
Edit
The first 5 people who used their real information on the "Applicants" page were called by a person named Kyle. He told them, that they were hired by Wally's. He also asked them for their size and weight.
The 5 people are DVDBoxSet, ColSnarkyPants, ShawnWrites, Havok-San and MikeHiggs. [Cracked froum user names]
Dave recieved a new email from Kyle:
From: Wally's Corporate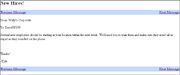 To: DavidW289
Several new employees should be starting at your location within the next week. We'll need you to train them and make sure they aren't all as stupid as they sounded on the phone.
Thanks!
-Kyle
The ! after Thanks! links to an image. When this image is saved as a *.mp3, it plays morse code.
We translated the morse code to with different versions of John dies at the end:
The ISBN is 55513
232.3.7 - 286.2.6 - 102.17.9 - 286.1.14 - 324.16.4 - 154.2.1 - 243.28.3 - 40.26.11
"What do you know about the dead man" (TheDeadman is a user on cracked)
We recieved a new link via a text from Wally's.
We saved the image as *.mp3 again and translated the morse code:
The ISBN is 51499
351.6.11 - 6.22.10 - 156.11.8 - 292.25.13
"He has a secret" (reffering to TheDeadman)
Recieved another text from Wally's with this link.
We saved the image as *.mp3 again and found more morse code.
50.51.51 46.50.48 46.52.32 55.54.46 49.50.46 54.32.50 57.55.46 52.46.51 32.49.50 55.46.49 46.49.50
To decipher this we had to use ALT text.
ISBN 0978970764 Permuted Press first edition
233.20.4 - 76.12.6 - 297.4.3 - 127.1.12
"Does he even know" (reffering to TheDeadman)
We recieved a text saying:
"Everything ShawnD [Cracked user ShawnWrites] needs he has. nobodycares if he doesn't get it in the next 614
minutes, but if he doesn't figure it out in the next 614 seconds."
We figured out the log-in for Shawn must be
Username: ShawnD614

Password: nobodycares
When we logged into his email account, we found a mail, saying that every new employee must should read the Employee Handbook.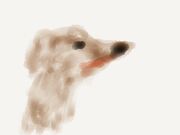 In the Employee Handbook on the intranet page we found that the "C" in "Maintain the confidentiality"
holds another
link
.
We downloaded the c.rar and used TheDeadmans signature line on cracked as a password.
"you broke everything" as the password opened the c.rar and gave us "Audacity.mp3".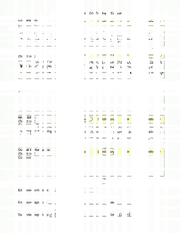 When this mp3 is played in VLC it shows a QR code wich leads to this
link
.
When the *.jpg is saved as *.rar it can be opened. Inside is "js83lsmcgwuxl.part1.rar"
We recieved a text from Wally's. [...]
With this information we figured out the log-in date for MikeHiggs.
Username: MichealH999
Password: failure
In the scource code of the handbook we found this link. When we used a spectroscope on the image we got THIS.
The image gave us Havok-Sans log-in data.
Username: HavokS349
Password: dildowarrior
He also had the same email in his inbox as Shawn and Mike.
When we checked the handbook on his intranet we found that the "Signature of Employee" hold the GreatJob.rar.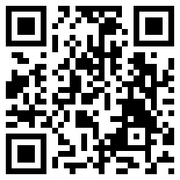 We used his signature on cracked to access the GreatJob.rar.
"You know, Hobbes, some days even my lucky rocket ship underpants don't help." is the password.
Inside was the GreatJob.jpg which is a QR image. When decoded,it only says: "Another QR code? Really?"
When GreatJob.jpg is changed to GreatJob.mp3 it playes morse code. When decoded it says:
ANDMORSECODETTOO?COMEON.OHWAIIT,NHEREYISSOMEURLTHING:THHISJ2U0S0T0ILNB,MORSSECODEISFORNERDS.
[And more morse code too? Come one. Oh wait, here is something: This just in, morse code is for nerds]
When we took out the bold letters and used a tinyURL it lead us here.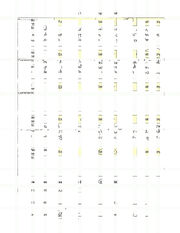 We saved it as *.rar, unpacked it and got the second part of the "js83lsmcgwuxl.part2.rar".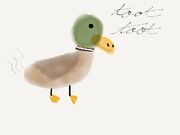 Havok got a text from Wally's with a link.
We found the letters "mh/Files/3.jpg" hidden in the image and addd it to the Wally's URL.
When we changet it to 3.txt we found a message at the bottom saying "here comes a butt".
Wally's gave us more images, each one had a message hidden. They deleted it later that day, but TheDeadman saved them.
In the image 3b were two other messages hidden pointing to ColSnarkyPants .
After Wally's send us more texts with messages like "Colyoudontansweryourphone", we figured out that his password is "idontanswermyphone"
Username: JasonP202
Password: idontanswermyphone

He had the same mail in his Wally's account as the other players.
Hidden in the scource code for the handbook we found
"114 would be the number you wanted".
Knowing DVDBoxSets real name and with all the information given to us in this image, we figured out DVDs log-in information too.
Username: MadeleineK114
Password: toottootherecomesabutt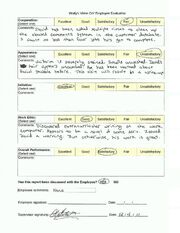 She also had the email about checking the handbook in her Wally's account.
We discovered, that the background image is different. When we saved it as a *.txt we found "Files/fiklskefgjs.rar" hidden in the code.
This is the thrid part of the "js83lsmcgwuxl.rar".
We found the phrase IamJohnRambo in DVDs mail account and used it to access this URL. Which is the final pasrt of the "js83lsmcgwuxl.rar".
We opened the "Evaluation Report" in paint to access the completed image and used the circled words as the password for the "js83lsmcgwuxl.rar"-files.
Password: "FairUnsatisfactoryExcellentGoodSatisfactoryYES"
Inside was the 4th set of pages.
We found a new email in MikeHiggs' account, saying that he was fired for missing his training and his opening shift. When we run the attached audio through a spectrograph, it showed a picture of two dogs.
When that *.mp3 is saved as a *.rar it can be opened. Inside is 5.part5.rar, proteced with a password.
Another email can be found in Dave's "Send Emails"
folder. It says, that Wally's employees should keep an
eye out for people renting dog movies.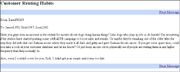 Dave send this email to 3 people (JamesL992, RickG067 and LisaQ382). Those names might be possible unsernames for more email accounts on the Wally's website.
Dave recieved a new email from HotMC. It included pictures.
"From: HotMC
To: DavidW289
Hey there Hamburger Heroes!
Boy, that sure was a fun trip. I kind of got lost out there and really just found myself, you know?
Turns out that there isn't a hamburger capital of the world, but my journey took me all over to find that out.
First stop was Japan! There were some good burgers to be found here, but this guy creeped me out a bit. He stood there for hours like that.
Next up was Laos!
I didn't find many burger stands here, but there was a pretty sweet burger temple.
That is Raknah, God of Hamburgers
Shali'nsta, Queen of Flavor.
The three heads of the flavor serpent, they represent spice, tang, and burger
This is the burger temple I stayed at for two weeks. The people treated me well and I learned a lot about who I am as a person.
I also went deep into the ocean to learn from the animals. They taught me all about flavor profiles and spice harmony.
My trials finally brought me to the southern part of the USA where I sampled some alright burgers:
Some terrible burgers
And the burger of the month:
Let's get into that. So, I ended up in Georgia at 2 in the morning on a Sunday and decided, "Hey, why not try a Krystal Burger?" They were closed. Readers, you can imagine how heartbroken I was to pull up at a drive through with thoughts of burgers on my mind, only to have to leave empty stomached. I cried. It was terrible.
It was ok though, because the next day I went to Fat Matts Rib Shack
Amazing southern barbecue with live blues every night. Great pulled pork sandwich if you are ever in Atlanta, but I wouldn't get a burger from there.
Next up was The Varsity!
I really had high hopes for this place, but come on, look at the sad excuse of a burger they give you:
That is a double bacon cheeseburger. Or so they tell me. More like a double bacon abomination burger.
I passed a huge cock on the way to little five points and thought you'd like to see it.
Finally, I arrived at my destination:
A little place known as
The Vortex. Atlanta's best burger. No, really, they have a whole room dedicated to it.
So I entered The Vortex and found myself in what looked likeMerlotte's, but with stuff all over the walls.
A friendly waitress came over and guided me to a seat but SHE TOOK MY FLASK! I loved that thing. It was my companion for years. Well, if anyone is in the area, swing by and pick it up. You won't be disappointed. They said they'd hold it for me till the 6th.
Looking at their menu their were two items that jumped out at me. One was the Big Bad Voodoo Patty. Bacon, chipotle cream cheese spread, green pepper jelly, an 8 ounce ground sirloin patty all on texas toast. Also the green peppers are blessed by a real voodoo priest in New Orleans. I don't know about you, but I know better than to fuck with supernatural things. I don't want some ghost rubbing its balls on my burger. So I was not brave enough for that one, and instead tried their claim to faim:
The Coronary Bypass.
Got it with a side of tots
Look at that fried egg
and that crispy bacon!
It was a delicious burger in every way. It easily wins Hamburger of the Month.
Well, that is it for now, and really, if someone could get my flask I'd really appreciate it. You don't even have to return it, I just want to make sure it gets a good home.
Oh, hey is anyone going to Comic Con? I was thinking of heading down there, and would be looking for fans of hamburgers. If anyone is going down there, maybe you can all wear some easily identifiable shirt?
Love always,
Hot MC" [Pictures in the sideshow]
Some images we found when we checked the filenames and noticed that some images were missing. "laos2.jpg and laos4.jpg" laos3.jpg was missing, so we changed the Wally's URL to find it.
The email mentioned a burger restaurante in Atlanta and HotMC said, that the waitress stole his flask. The three new images had a book cipher hidden in "ga1.txt".
55513
74.14.1
14.10.10
184.33.6
"JSHERBASCO"
When added to the Wally's URL we found 97 different images . All part of one bigger image .
One image was a password protected *.rar.
70 other pictures played tones when we changed the extention to *.mp3 . The files had numbers hidden in the *.txt.
We merged all the soundfiles together and spectrographed it.
We got this image , which has a URL written on it.
"http://www.wallys-videe-oh-online.com/Rentals/"
When we created an account , we were able to log in and order movies.
When a movie was order, the person recieved a message telling them, that their movie would be send in the next 3-5 days.
We recieved texts from Wally's:
Text: "I mean, he was in Atlanta and all. Kind of weird for him not to go there when he went everywhere else."
Text: "it is right there next to the Aquarium (where he lied and said he was in japan) And close to coke1"
TEXT: "You know, I wonder if that hamburger guy went to CNN."
TEXT: "That hamburger guy seems pretty lazy to me. I wouldn't put much faith in him. What kind of person sits around all day talking about hamburgers?"
TEXT: "You can go take the tour, but you won't see what he saw."
We found 2 images.
On CNN.jpg are 4 hidden codes:
b9wR, 8QTK, fscq and p9yn.
When we put them into goo.gl/maps/[Code], we got codes to use in the book.
65914 ISBN
228.30.6,239.15.6,245.15.9
239.4.6,247.26.1,257.28.3,242.2.3
130.28.3,239.4.12,228.13.2
The codes translate into a phone number: 616-613-6491
When we called it, it played a song .
We got a text from Wally saying: "I've always liked my burgers plain." and found this URL .
Changed the filename to burger.mp3 and it played tones. In the spectograph, we saw a pigpen cipher, when decoden it says
"LETS MEET UP ON FRIDAY THE
THIRTEENTH HOW ABOUT ONE PM? WE CAN
MEET AT THIRTY-TWO FORTY-TWO TWENTY-
FOUR DOT FIFTY BY MINUS ONE-ONE-SEVEN
TEN SEVEN DOT EIGHT FOUR"
Those number are coordinates .
We also found this URL . The picture was also a *.mp3 and lead to a QR code.
The QR gave us a mediafire link with the "you want a clue.rar" . The password is hamburger.
Inside is the "this is all you get.mp3". It's 37 minute track. We reversed it and slowed it down and it's this song .
HotMC said on his facebook page he would join us in TurnTables.fm/jdate and play a song.
People who ordered movies from the Wally's rental page recieved them. They also got a pice of pager with a pigpen cipher.
A guy named Samurai came into the ventrillo server we use and said:
"I don't know how long it'll last. You need to call Wally's"
When we called Wally's, we got a recorder message with tones at the end.
We used a spectograph and got a QR code. This code lead to another pigpen cipher.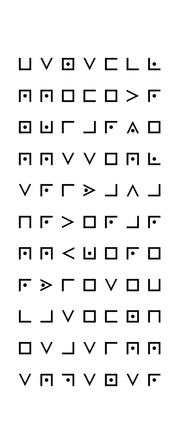 When decoded it gave us this:
"BSNSFCL
QQEFETR
NKIARZE
QQSSEQL
SRIXAVA
HRTERAR
QQUKERE
RXIESEB
CASEFNH
ESASIQQ
SQPSNSR"
90° rotated and it says:
"do not forget tomorrow at one it is vital that we meet there are things you are not prepared for"
ShawnWrites and DangerDude went to Comic con and waited for The HotMC, he never showed up, but they got a
text from Wally's number that said "go to the crab shack".
When they got there, a girl showed up saying, that she hacked Wally's-Vide-Oh! and Sherbascos Facebook account. She gave them a flyer . It lead us to this side , where we found a password protected post. The password is "Z" and lead us to this image .
Save the image as *.docx and you can see this weeks pages.
July 17
The Zombie Blog posted a link which had a TurnTable.fm link in it.
2 Songs were playing in their room.
http://www.sendscape.com/file/uxhspz
http://www.mediafire.com/?xe5lndyrp5blrmd
The first one had an ASCII code, the second morse.
ASCII:
"its all true, all of its true. the entire thing from solving to -DW, not a lick of it isn't real. the key to salvation lies within and it is your duty to be prepared. it is the new old testament."
Morse:
"if you do not work together on this, you will fail and everything will be for nothing. you see that man, he knows what to do. he has a way with things. you"ll see. the second capital holds the key. june 25th. there are important things coming soon and you will need to understand. we will be in communication."