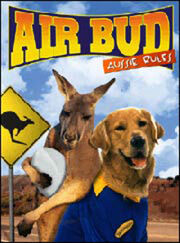 Found on the new releases section of
http://www.wallys-videe-oh-online.com/
Disney originally planned this film to begin a trilogy of Austrialian-themed Air Bud movies but production never began.
The summary according to Flixter is:
Framm is starting senior high, and has a bad case of the jitters. Then she meets Rod Palmer, a handsome exchange student and star rugby player from Down Under. Andrea knows nothing about rugby, but signs up for the school team hoping to get Rod's attention. When Andrea displays less than stellar performance on the field, Buddy the dog comes to the rescue. Buddy has the uncanny ability to play Rugby! Practice makes perfect, and soon Andrea is scoring points like a pro. In recognition of her newfound skill, Coach Palmer gives her the most sought-after position on the squad. But all Andrea's efforts to get his son to notice her have backfired - now Rod resents her for taking the position he thought was his!